J9's Books for Cooks
Hello, everyone. My name is Janine and I work in the Adult Reference Department. J9 is a nickname I acquired from school friends. Janine is spelled many ways so J9 =Ja-nine. I know it's kind of silly but it stuck.
Cooking is one of my passions. While it causes anxiety and discomfort for some people, cooking is my go-to therapy. I enjoy browsing through new cookbooks, trying new recipes and sharing them with others.
Looking for some new cooking ideas, or want to browse a new cookbook? Don't worry. Even though the library is closed, you can find some great digital cookbooks using our Libby Overdrive product. All you need is your library card barcode and password. We can help you with that. Just check out Monika's blog post, and that can help you get started.
I just downloaded this book today.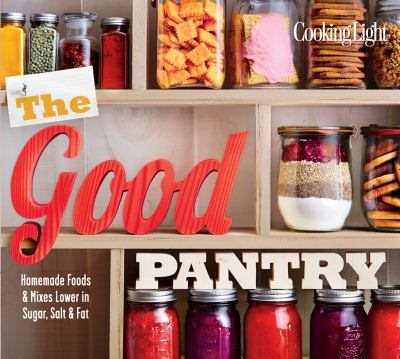 Cooking Light: the Good Pantry
Restock your pantry from scratch with Cooking Light's guide to healthy homemade staples.
"Filled with creative recipes and expert advice, The Good Pantry puts a DIY spin on kitchen basics, offering healthy alternatives to common store-bought products. Discover more than 140 ideas for great-tasting sauces and spreads, ready-made baking and cereal mixes, make-ahead doughs, crowd-pleasing snacks, and more. These re-crafted recipes replace the additives and preservatives found in packaged products with fresh ingredients and more whole grains, creating delicious and long-lasting items that you'll feel good enjoying. Each item comes with instructions for storage, and a variety of gluten-free, dairy-free, nut-free, and egg-free options are flagged for those with food allergies and restrictions. Home cooks of all levels will appreciate the wide-ranging variety of kitchen essentials included. And with a pantry full of appetizing ingredients, it's easy to whip up a tasty, good-for-you meal in minutes."